Consecutively providing "CUVIS-spine" and "Morning Walk" to domestic, highest performing general hospitals
CUREXO's medical robots are expected to vitalize robot rehabilitation treatment sites.

CUREXO(060280), a medical robot specialized company, has revealed that it will supply a spinal surgery robot "CUVIS-spine" to Severance Hospital, walking rehabilitation robot "Morning Walk" to Jeonbuk National University Hospital and Saerom Rehabilitation & Nursing Hospital each, as part of the "medical rehabilitation robot supply project" jointly promoted by the Ministry of Trade, Industry and Energy, the Korea Institute for Robot Industry Advancement, and the National Rehabilitation Center.

The "medical rehabilitation robot supply project" aims to prove the efficiency of robot rehabilitation and distribute them to various medical sites by discovering robots with high market potential and demonstrate testing them at domestic medical institutions.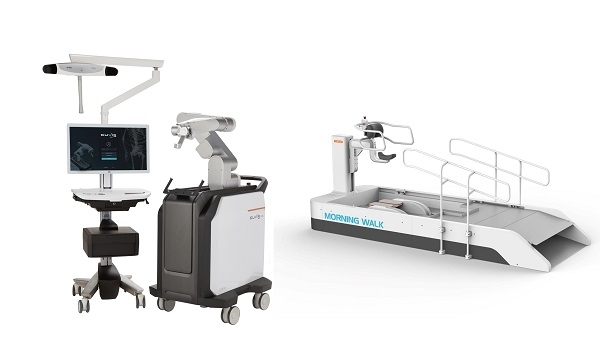 CUREXO's robot for spinal surgery "CUVIS-spine (left)" and for walking rehabilitation "Morning Walk (right)"


According to CUREXO, CUVIS-spine is a robot for spinal surgery which has been supplied with a contract for research and development between Severance Hospital and CUREXO. Currently, Severance Hospital is operating the most robotic surgeries among the highest performing general hospitals in the country.

CUVIS-spine has acquired licensing from the Korean Ministry of Food and Drug Safety in December 2019 and the CE certification from Europe this May, and it is now looking forward to U.S FDA's licensing after completing all procedures for the approval.

A robot for walking rehabilitation Morning Walk has been installed in major rehabilitation hospitals across the country, starting from the National Rehabilitation Center in 2015 and to hospitals, including Jeonbuk National University Hospital and Saerom Rehabilitation & Nursing Hospital. Now, a total of 14 Morning Walks are in use for treating patients with lower extremity disabilities. Moreover, the upgraded version of Morning Walk, "Morning Walk S200," is completed developing and will prepare for licensing in the country within the second half of this year.

"As we supply to Korea's advanced general hospitals some various medical robots such as "CUVIS-spine" and "Morning Walk," which we've developed with our own technologies over a long period, I believe we are taking a first step toward becoming medical robot specialized company," Jaejun Lee, the CEO of CUREXO said. "I am expecting an increase in sales along with profitability improvements, as 'CUVIS-Joint,' in addition to domestic supply, successfully signed a long-term contract with 'Meril Healthcare,' the largest implant firm in India," he added.

Meanwhile, CUREXO is actively marketing its various medical robots to Korean hospitals and overseas distributors and is determined to focus on achieving additional sales in the next half of the year, excluding already fixed domestic and overseas contracts.



Source: http://www.k-health.com/news/articleView.html?idxno=49552